With half of Australia in lockdown at the moment, it's a challenging time for all of us, not least those of us who own a business.
I'd wager that most business owners are as busy as ever right now doing all we can to keep our businesses running – I don't think many of us are sitting at home watching hour after hour of the Olympics on TV.
Because right now, our businesses need us to be doing whatever it takes to ensure we get through these challenging times and are set up for sustained, long term success.
That means our work/life balance is likely suffering, and it's a price we're willing to pay as business owners (as long as these sort of hours don't become the norm – 65+ hour weeks should be an exception, not the rule!)
You know I prefer brutal truth to just telling you what you want to hear, so let me state it plainly:
Work/life balance is a myth as a business owner, especially when you're looking to grow, and sometimes you need to navigate your business through treacherous conditions.
Now, don't get me wrong, I'm all about your business being productive so you can enjoy the other things in life. There is nothing – absolutely nothing – more important to me than spending time with my wife and kids. I work hard in my business so that I can do that.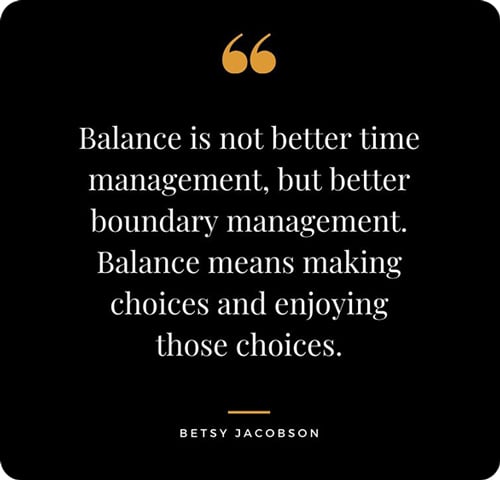 The thought that you can tailor your career or business around your personal life and have them fit together just so has got many into trouble.
It's about personal alignment. Your personal life must be aligned with your goals and your dreams. That includes your family, friends, pets, social commitments – whatever is going on in your life. It's your job to make it all fit together.
Without this personal alignment, professional alignment won't happen. No one reaches success without sacrifice. The more you have alignment and harmony the more you will be able to achieve. Ultimately, less is more.
Business is demanding. It always has been and it always will be. There are no magic tricks and no shortcuts to success, so you have to be prepared to do whatever it takes.
Hard work and effort need to be part of your routine, especially during these uncertain times.
If you're knocking off early every day to watch the Olympics, how on earth are you going to motivate your team who are also doing it tough, but don't have their business (or homes!) on the line.
Do you think they are going to power on until 5 pm, or be on Facebook at 3.01 pm? If you're close to signing a major client and they want to meet at 8 am, are you going to say no because you want to binge-watch Netflix?
So, if work/life balance is a myth, what is possible? I prefer to aim for work/life harmony.
That means you recognise that sometimes the business must be the priority. Sometimes there will be late nights (or even all-nighters), and weekends and early starts.
That's just part of the process when you are building a business. The reason you do this is to make your business more productive and more successful, and the reason you want the business to be successful is so that down the road you will have more time and more freedom to do the things you really want to do.
You have to do whatever it takes to make the business strong, and then you can back off a little.
Whenever your business needs you, you must be there. But when your plan allows for time off, because you have great systems and great people in place and everybody is being productive, that's when you get to relax.
It's not about 50% work, 50% family, or whatever other percentage you come up with.
Sometimes it will be 100% work and at other times 100% family. The key to managing this is that the people around you understand this and support you in what you do.
You need to manage their expectations and explain to them what you are doing and why, and that if you are working hard now it's so that you can have the rewards later.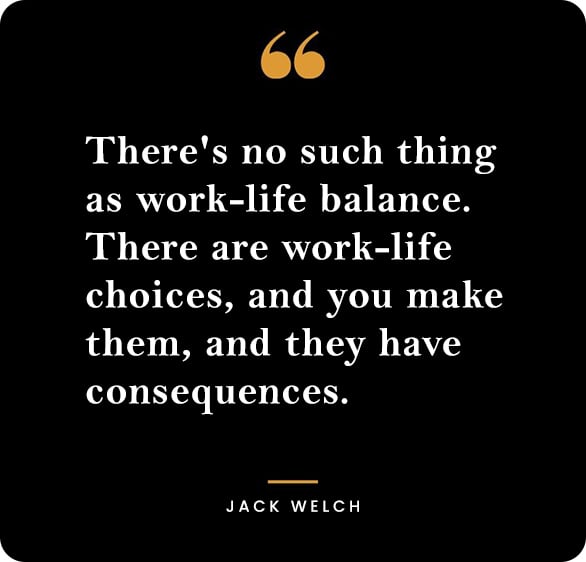 Nothing can undo a business quicker than an unsupportive spouse, family or loved ones; believe me, I've seen it happen too many times.
If your personal life isn't aligned with your dreams and your goals for the business you're going to have a problem. You need to talk to your loved ones. If they are not a support structure but a problem you are doomed.
Flexitime is successful for mature organisations but many organisations are not yet mature enough to manage this. The moment you introduce this but you're not mature enough, the cat is out of the bag. For this to work you must have ownership of tasks and accountability built into the culture of your organisation. 
Power to you this week (and go Aussies!)
Stefan